Pets & Friends Grooming
Grooming at Pets & Friends
We know that a good grooming routine is important to keep your pet happy and healthy, that's why we have a dedicated team of experienced, qualified pet grooming stylists in each of our salons.
From washes to the works, our salons provide a relaxed and friendly grooming service for dogs, cats and petite pets, always ensuring your pet's every need is catered for, giving you peace of mind whenever you need it.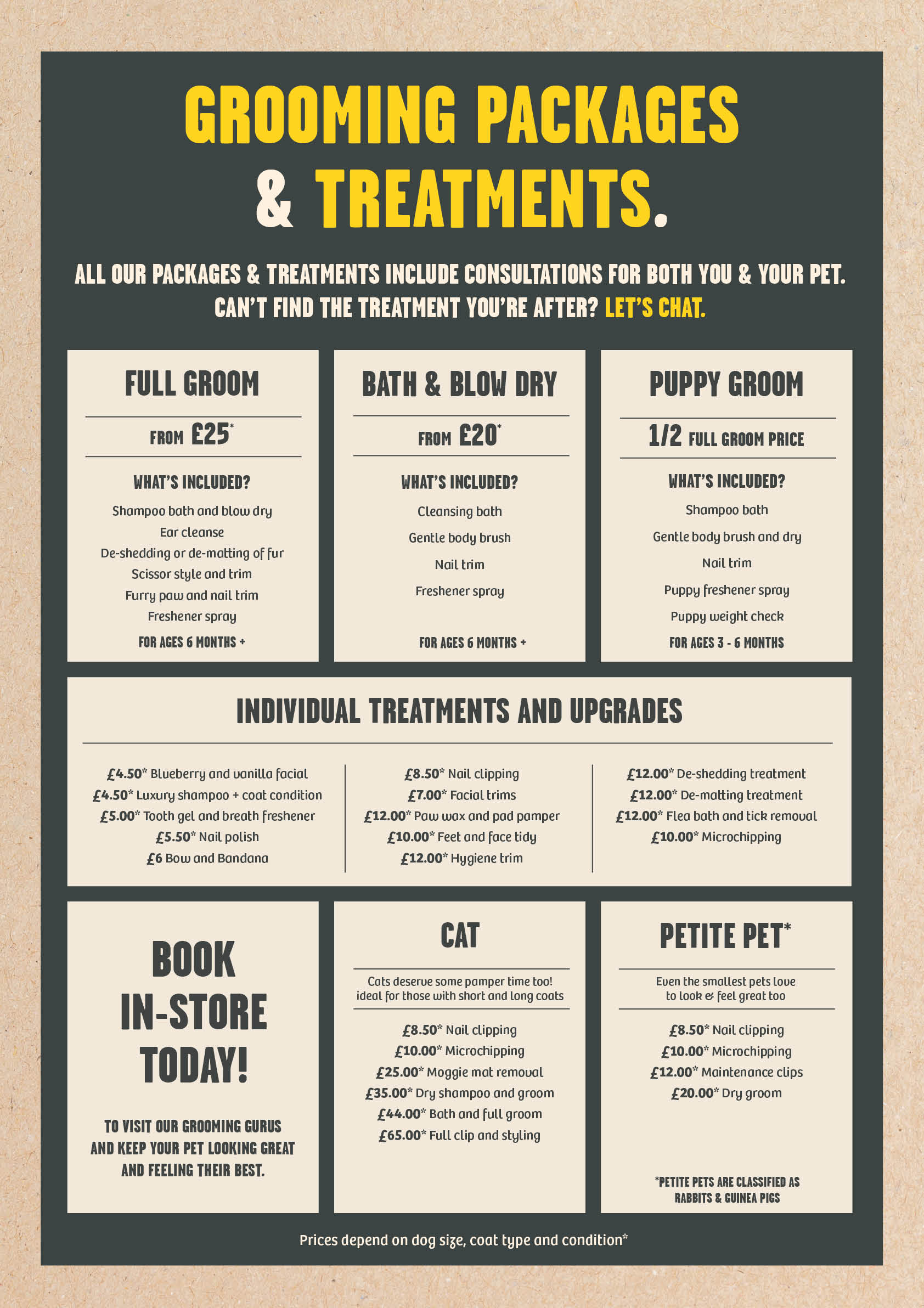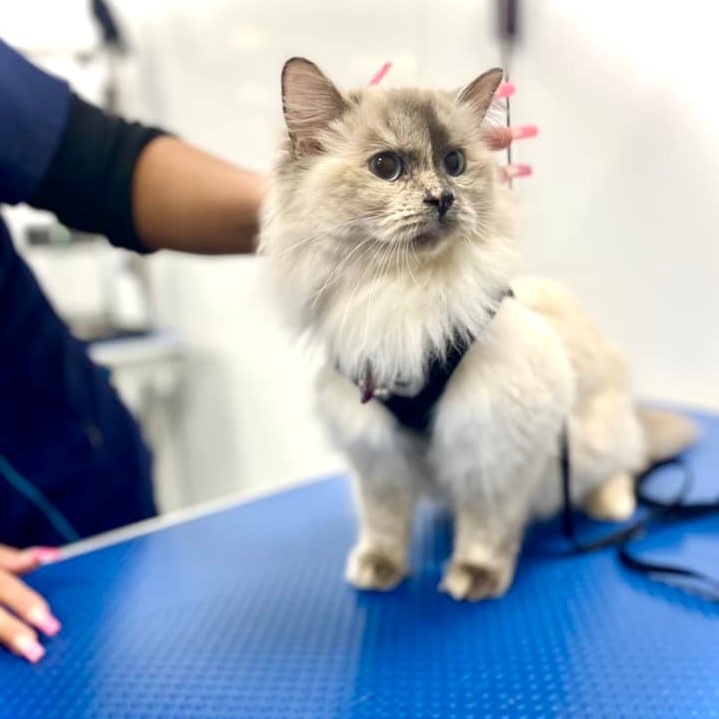 Did you know, we groom cats too?
Cat treatments start from just £8.50 & we offer a wide range of options- from nail trims to full luxury packages!
Whilst cats can spend a lot of time grooming themselves, it's important that they have a professional groom regularly (particularly long-haired cats) to keep their coat, skin and nails in tip top shape.
If your cat is an outdoor cat, it can also be a good idea to book in for regular flea/tick baths during the warmer seasons.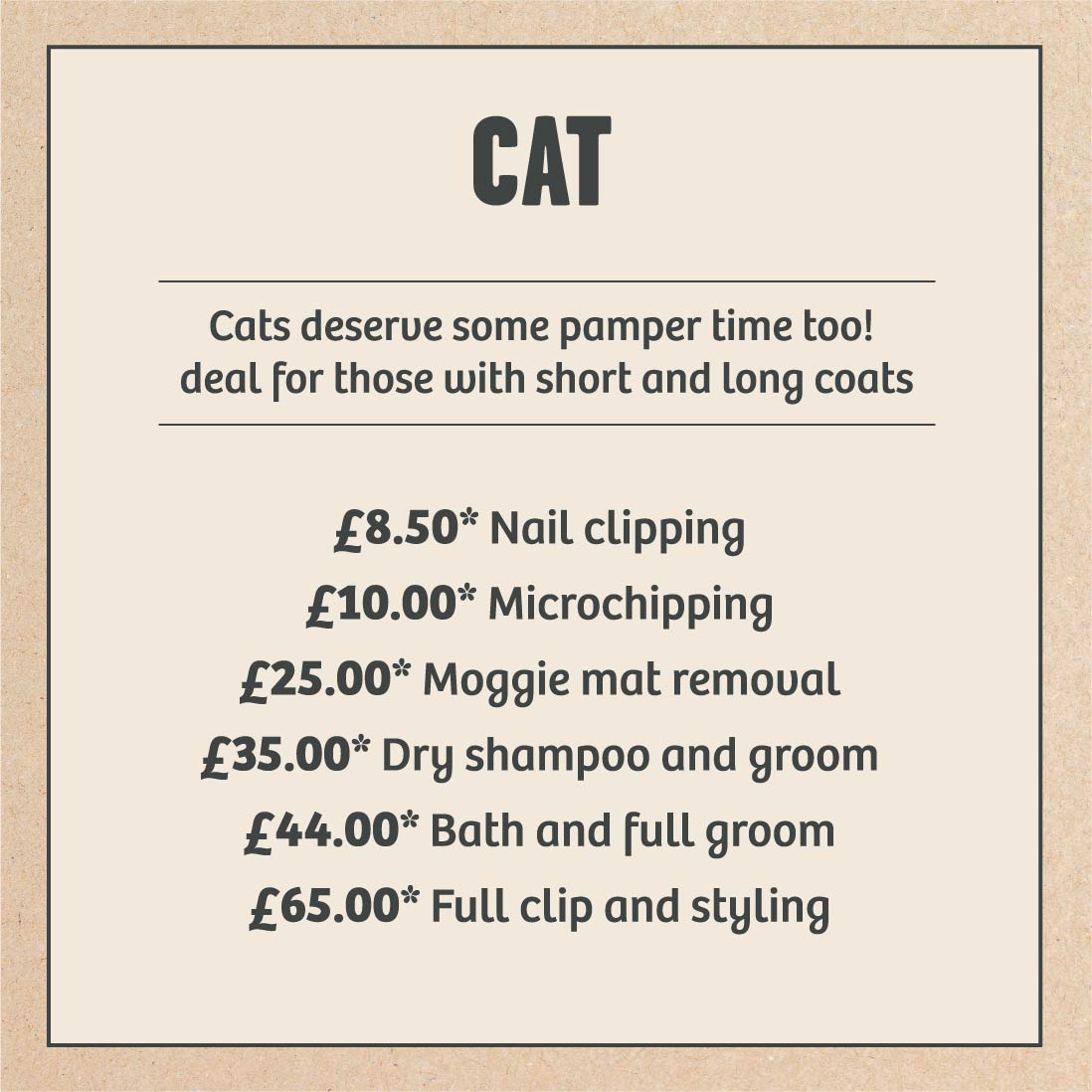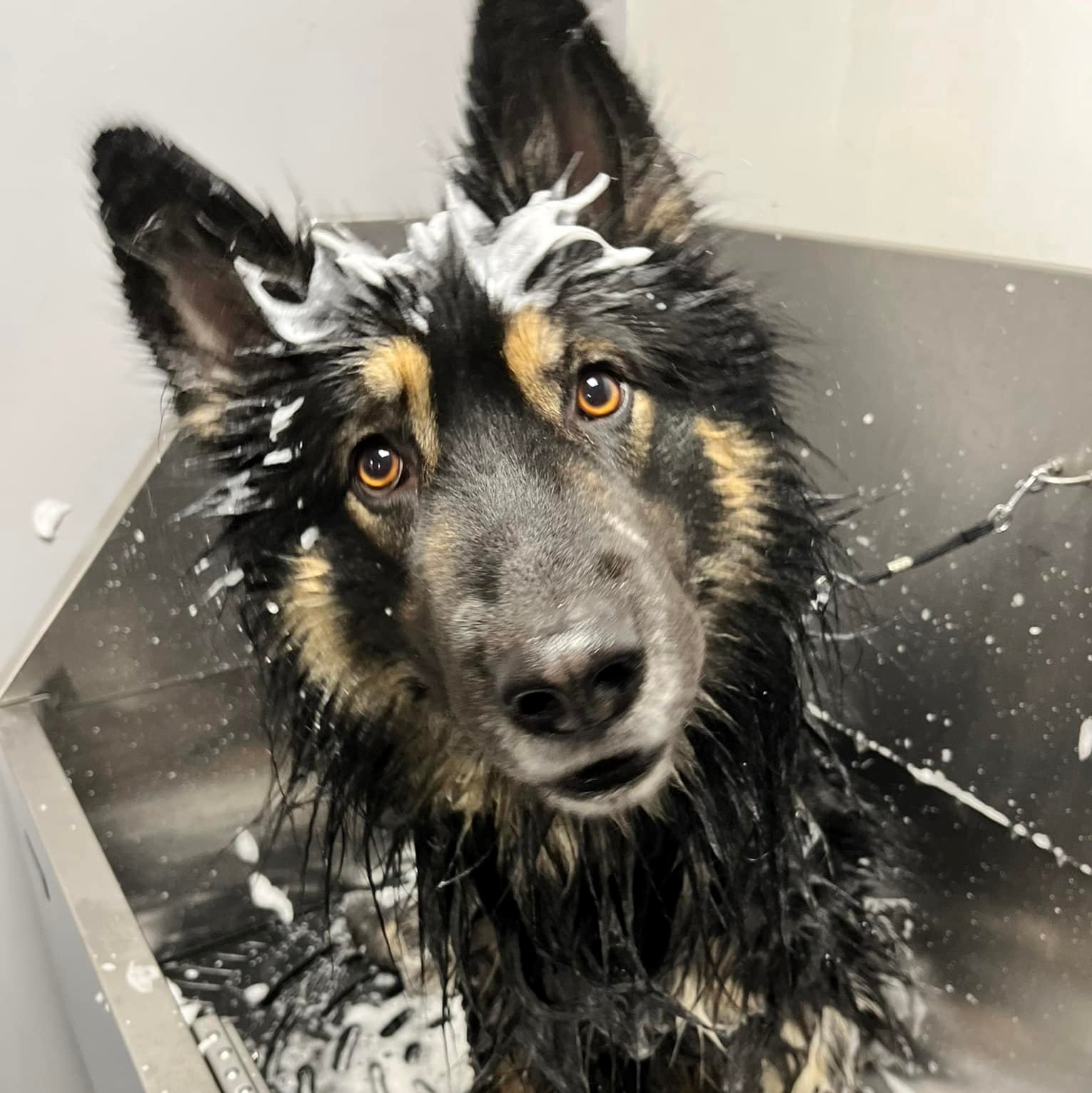 It's bath time!
We offer a range of bath options across our stores and salons.
The self-service dog wash is perfect if you enjoy bathing your dog yourself, but don't want the mess at home! Plus, when you buy 5 self-service dog wash sessions, you get your 6th for free! We can provide shampoo and conditioner, or you can bring your own from home. Prices start from £7.50.
A bath and blow-dry from our grooming gurus! Treat your pet to a cleansing bath, followed by a gentle body brush, a nail trim and a spritz of freshener spray for a special occasion, or if they need a quick pamper between grooms! Prices start from £20 and you can upgrade to a luxury shampoo and coat conditioning treatment from just £4.50.
Flea baths with tick removal. During the warmer seasons, parasites can get everywhere no matter how much you try to prevent them! We offer a flea bath for dogs and cats who need a thorough treatment. Prices start from £12.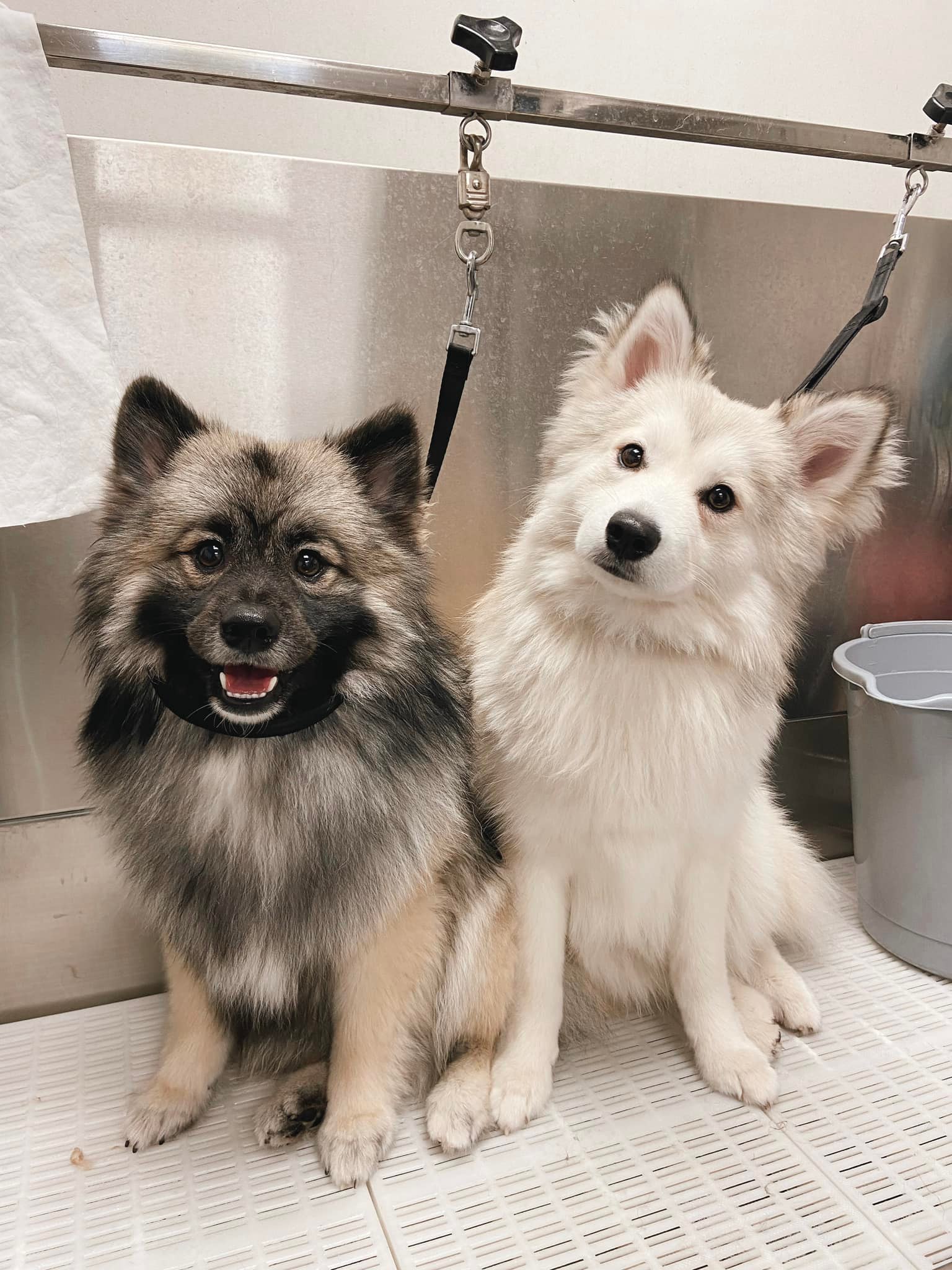 Refer a friend and get a double discount!
As part of our grooming reward programme, each time you introduce a new friend to our Pets & Friends Grooming Gurus both you and your friend will recieve a 10% discount on a full groom!
Ask in your local salon for more details about our refer a friend and reward programmes.
Frequently Asked Questions
Do you groom cats?
Yes, we do groom cats of any breed. It is not ideal to bath any cat, but this service is offered if necessary and your cats are used to being bathed. Please note that when cats are booked into the Pets & Friends grooming salon, we do not book dogs in at the same time. Also, when demand dictates, some salons offer cat-only days. Cat grooming takes on average anything between 15-60 mins, and we require that all cats are brought in a suitable cat carrier.
Do you groom small animals?
Yes, we do! We are experienced in grooming all small animals from rabbits and guinea pigs to hamsters, and we offer a wide range of services for our small pets. Please ensure all small pets are brought in in a suitable carrier.
How long will the groom take?
This is dependent on each animal, their coat condition, age, breed, temperament, and style chosen. Our main aim is to make your pets experience as enjoyable as possible, and your pet will always come first. If we think any part of the groom will cause stress or discomfort to the pet, an alternative grooming method will be chosen. The initial consultation with you and your pet will be key to determining the length of the groom. For dogs on average we say two hours, many dogs will be groomed in less time than this. We pride ourselves on taking the groom at your pets' pace, and then give you a call when your pet is ready.
Rescheduling appointments
Please aim to arrive on time to your appointment, as each pet is allocated their time slot. If you know you're going to be late, or need to cancel your appointment, please call your local salon as soon as possible. We try to accommodate late arrivals as much as possible, but during busy days rescheduling may be required.
Can I choose any grooming style for my pet?
We can provide any type of groom from the breed standard, short and practical to unique; all you have to do is ask. The only requirement is that your pet's coat is matt free and of a suitable coat type to get the desired effect. My pet has never been groomed before; I am not sure what they need? If you have never been to a pet groomer before and are unsure of the style of groom you require don't worry, we will go through all the options for you and your pet, providing you a portfolio of images if necessary to help you decide on a style that suits you both. All details of the groom are kept on record, so that when you return, we can use this as a guide of what you liked or wanted to change.
My pet's coat is matted, can you brush it out?
This will depend on the severity of the matting. In some cases where the matting is light the answer will be yes. If the matting would cause stress or discomfort to the pet to brush out, then the answer will be no, and an alternative grooming method would be used. The Animal Welfare Act 2006 states that it is an offence to cause animals' pain or discomfort, and therefore the Pets & Friends grooming salon reserves the right to refuse to do anything we think may be detrimental to your pet's well-being. Of course, you would be kept informed if this was the case.
Do you groom large and extra-large dogs?
Unlike most other groomers we LOVE big dogs. All of our equipment is designed to cater for the largest of dogs, and we are one of few groomers that welcome and specialise in such large breeds (e.g. Newfoundland's, St Bernard's, Great Danes, Mastiffs etc.)
Do you groom aggressive or nervous pets?
As trained groomers, the team are more than competent at dealing with most pets. Please make us aware of any behavioural issues that your pet may have when booking an appointment, and on initial consultation. Your pet's welfare will come first, and at any point in the groom your pet becomes unnecessarily stressed or aggressive we will cease grooming and may ask you to collect your pet. Will my dog be muzzled? We will only muzzle a dog if it is absolutely necessary. For example, dogs that show signs of aggression, biting or licking at the scissors or clippers. This will only be done for your dog and our groomers safety and you would be informed if this were needed.
My pet has certain allergies and needs a specific shampoo!
We can use prescription shampoos from your vets where necessary. Be sure to mention this when you bring your pet in, along with the specific shampoo you need us to use. We also have our own medicated and skin sensitive shampoos, so again please let us know if you think your pet's coat may be sore.
Can I bring treats for my pet?
Yes! this is something we always recommend. If you would like to bring a favourite blanket and or toy this is also always welcomed. We too can provide treats throughout; this is something we will ask your permission to do during the initial consult. If your pet has specific dietary needs this would be considered.
Will my dog be put in a crate?
Crates will be used for safety reasons and are large enough to house any breed, this is again something that the Animal Welfare Act 2006 specifies, no free roaming. If you have a pet that cannot be crated for whatever reason (e.g. deaf), please make us aware and this will be resolved accordingly.
Can you look after my dog for the day?
Yes, if this is pre-arranged and there is availability – there is an additional charge for this: £15 half day and £25 full day.